When it comes to toys for toddlers, push toys are a classic choice that can provide hours of entertainment and developmental benefits. Whether your little one is just starting to take their first steps or is already a pro on their feet, push toys can be a great addition to their playtime. In this article, we will explore some of the best quality push toys for toddlers that can serve many purposes.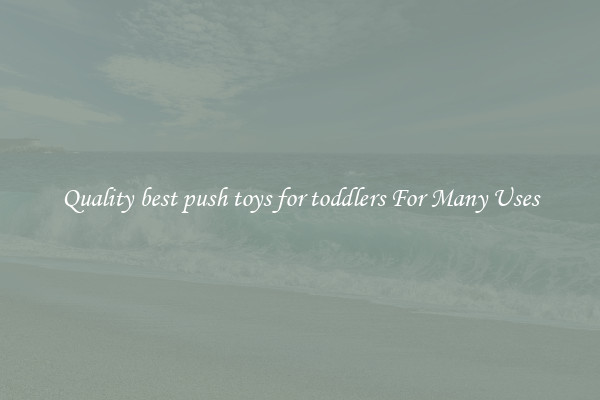 One popular push toy for toddlers is the classic wooden walker. These timeless toys not only help toddlers practice their walking skills but also provide them with a sense of stability and balance. Wooden walkers are usually equipped with a variety of activities, such as shape sorters, spinning gears, and bead mazes, to encourage fine motor skills and hand-eye coordination. Additionally, the sturdy construction of these toys ensures durability, making them a worthwhile investment.
For more interactive play, push toys with sound and lights are an excellent choice. These toys often feature buttons that produce catchy tunes or animal sounds, stimulating the toddler's auditory senses. Some push toys even have a built-in shape sorter or puzzle, providing a cognitive challenge for your little one. The combination of fun sounds and engaging activities keeps toddlers entertained while enhancing their cognitive and problem-solving skills.
Another type of push toy that can be versatile for various uses is a push car or stroller. These toys allow toddlers to fulfill their desires of imitating the grown-ups and become more independent. They can go on imaginary adventures, stroll their favorite dolls or stuffed animals, or simply enjoy a ride around the house. Push cars and strollers often come in different designs and colors, catering to various interests and preferences. Such toys not only encourage imaginative play but also help toddlers develop their gross motor skills as they learn to push and steer.
When choosing a push toy for your toddler, it is essential to consider the quality and durability. The materials used should be non-toxic and safe for your child. Look for toys that have smooth edges and no small parts that could pose a choking hazard. Additionally, consider the stability of the toy to ensure it can support your child while they push and play.
In conclusion, push toys for toddlers can serve multiple purposes beyond just assisting with walking. From classic wooden walkers to interactive toys with sound and lights, and even push cars or strollers, there are plenty of options to choose from. These toys not only provide entertainment but also contribute to a toddler's physical, cognitive, and imaginative development. When selecting a push toy, always prioritize quality and safety to ensure the best playtime experience for your child.